Our #FlagelFriday Employee Spotlight: WFH Edition introduces you to Brett L. Vandeman at FHF.  Brett has been with the firm for 10 years!  Read on to learn more about Brett and his interests…
Brett L. Vandeman, Partner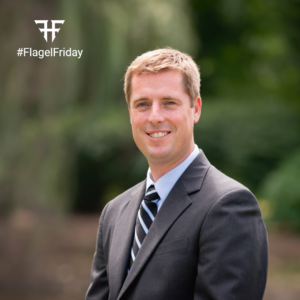 Education:  Wright State University – B.S. and M.S. in Accounting.
Favorite part about working at Flagel Huber Flagel: It is very satisfying to work alongside smart and fun people to help our clients navigate the complex and ever-changing business environment.
Area of expertise at Flagel. What do you help people to do? Family and closely held businesses and Employee benefit plans.
Favorite way to spend your time: I love to golf and watch as much football and baseball as possible.
What was your experience like working through this pandemic with clients?  How have you helped small businesses through this crisis? The pandemic brought about many challenges for our clients. Difficult decisions had to be made quickly and there was so much information (and misinformation) to navigate through. We tapped nearly every internal and external resource we had to help clients make informed and strategic decisions. I think I speak for everyone when I say I'm happy the PPP application process is over!
How was it working with our remote staff, and how did you encourage them during this time? We already had the infrastructure in place to work remotely but never thought it would be needed to this extent. There were some hiccups along the way but everybody was able to adapt quickly and keep projects moving. It just goes to show that if you have good people the rest takes care of itself.
What kind of changes have you and your family gone through during lockdown?  We tried to keep things as normal as possible, but there were definitely some stressful times. Things returned to normal once everybody got into a routine. Who knew kindergarten and 2nd grade math would be so tough!
Did you find yourself binge watching any programs, reading more books, etc?  I enjoyed watching "The Last Dance" documentary. Other than that, most of my free time was spent catching up on projects around the house.