This week, our #FlagelFriday Employee Spotlight introduces you to Nick Barnes, part-time Staff Accountant at FHF.  Nick has been with the firm for a little over a year!  Read on to learn more about Nick and his interests…
Nick L. Barnes, Staff Accountant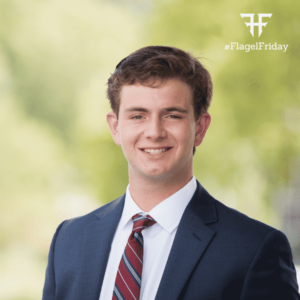 Education:  Wright State University (Active Student), Majors:  Accounting, Financial Management
Favorite part about working at Flagel Huber Flagel: I enjoy walking into work and catching up with my co-workers.
Area of expertise at Flagel. What do you help people to do?  I work as a staff accountant; I do a lot of tax preparation and I help conduct audits.  I work on a variety of projects and learn something new every day!
Favorite way to spend your time:  I love to play any sport or do just about any activity, especially golf.  I like to spend my time hanging out and relaxing with my friends or traveling with the people I love!
What is your personal/family life like?  I live locally with my parents, and have a younger brother attending Ohio State University.  My family life is fun, open, and filled with competitiveness and heated discussions.
Fun Fact:  My favorite place in the world is the Boundary Water Canoe Area Wilderness in upper Minnesota and Ontario.
Favorite movie/band/musician/TV Show? Musician: Tyler Childers, Movie: Good Will Hunting