This week, our #FlagelFriday Employee Spotlight introduces you to Nate Burger, Staff Accountant at FHF.  Nate has been with the firm for just over a year and a half!  Read on to learn more about Nate and his interests…
Nate Burger, Staff Accountant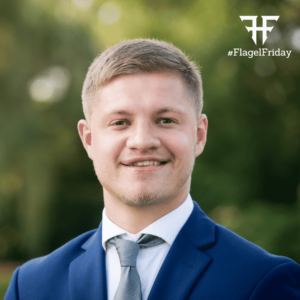 Education:  Ohio Northern University BSBA '18, Ohio Northern University MSA '19
Favorite part about working at Flagel Huber Flagel:  I enjoy being able to collaborate with my co-workers; helping to provide a service to our clients that they need. Being able to help businesses and individuals continue to pursue their dreams is very rewarding.
Area of expertise at Flagel. What do you help people to do?  I currently assist others with business and individual tax returns. I also do audit work and work on employee benefit plan audits, primarily outside of busy season.
Favorite way to spend your time:  When I am not studying for the CPA, I enjoy being active and getting outside. I also love sports and hanging out with family and friends.
What is your personal/family life like?  My family is very close, and we enjoy spending time together. We have had to be creative during COVID, and are very excited to being able to get together soon.
Fun Fact: I recently got engaged to my girlfriend of 5 years. We did not meet until college at Ohio Northern despite living less than 10 minutes apart growing up.
 Favorite movie/band/musician/TV Show? Favorite Movie:  Avengers Endgame and Airbud.