This week, our #FlagelFriday Employee Spotlight introduces you to Natalie Sanders, Small Business Accountant at FHF.  Natalie has been with the firm for three months!  Read on to learn more about Natalie and her interests…
Natalie Sanders, Small Business Accountant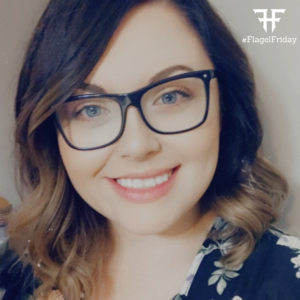 Education:  Bachelor of Science in Business from Wright State University
Favorite part about working at Flagel Huber Flagel: I love the variety of work associated with my job and learning about the clients that I work with.  Also, the team at Flagel Huber Flagel has been very warm and inviting in my first few months here.
Area of expertise at Flagel. What do you help people to do? I mainly provide bookkeeping services to our small business clients – including payroll reporting and various tax returns.  I also assist my colleagues with various accounting and tax preparation tasks as needed.
Favorite way to spend your time:  In my free time, I enjoy visiting family, trying new recipes, watching documentaries, and taking my kids on adventures.  Lately, I've been celebrating fall and everything Halloween (my favorite holiday).
What is your personal/family life like?   My husband, Jesse, and I just celebrated our 2nd wedding anniversary! We have two wonderful children, Walker and Amelia.  Walker played t-ball and tennis over the summer, while Amelia has recently started dance lessons!
Any fun facts about you that you'd like to share?  I was both engaged and married in the city of Chicago, but I've lived in Ohio my entire life.
Favorite movie/band/musician/TV Show?  Movie – The Nightmare Before Christmas
TV Show – I've lost count of the number of times I've watched (and re-watched) The Office.
As far as my musical taste, it's all over the place!