This week, our #FlagelFriday Employee Spotlight introduces you to Michaela Rapp, Small Business Accountant at FHF.  Michaela has been with the firm for a year and a half!  Read on to learn more about Michaela and her interests…
Michaela Rapp, Small Business Accountant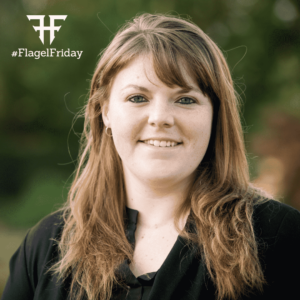 Education:  Western Governors University, B.S. Accounting
Favorite part about working at Flagel Huber Flagel:  I work with an amazing group of people that make it exciting to come in to work every day!
Area of expertise at Flagel. What do you help people to do?  I help clients with their bookkeeping and their monthly, quarterly, and annual tax filings.
Favorite way to spend your time:  I love reading, and I am currently on the Game of Thrones series. My husband and I also enjoy hiking and disc golfing!
What is your personal/family life like?   I recently got married in September to my incredible husband, Ethan, who inspires me to be the best person I can be!
Any fun facts about you that you'd like to share?  I love cooking for people and hosting small dinner parties. Although, I'll never live up to Michael and Jan's dinner party (fellow office fans know it well).
 Favorite movie/band/musician/TV Show?  My favorite TV shows are The Office, Parks and Rec, and Bob's Burgers!