This week, our #FlagelFriday Employee Spotlight introduces you to Katie Pavy, CPA, Assurance Manager at FHF.  Katie has been with the firm for 12 years!  Read on to learn more about Katie and her interests…
Katie Pavy, CPA, Assurance Manager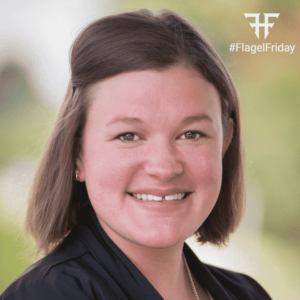 Education:  Wright State University, Bachelor's Degree in Accounting and Finance, Master's Degree in Accounting.
Favorite part about working at Flagel Huber Flagel: I love that my co-workers are fun and interesting people and I really enjoy working with all my Not-for-Profit clients and seeing how much of a difference they make in our community.
Area of expertise at Flagel. What do you help people to do? I focus primarily on financial statement audits for Not-for-Profit clients. I help my clients present their financial information in a transparent fashion to better help their donors and supporters understand what the organization does and where the donor's contributions are going. I am also certified to perform audits under the Uniform Guidance, which means that I can provide the compliance audits required of organizations who receive a high level of Federal funding. This allows the clients to continue to receive that funding to support their mission-fulfilling activities.
Favorite way to spend your time:  We love to garden, enjoy the outdoors, and travel to both near and far places whenever possible. I also enjoy reading just about anything with a good story, the longer the better.
What is your personal/family life like?   My husband, Josh, is a critical care RN, and we have been married for six years. Our daughter just started Kindergarten this year. We have two dogs, several cats, some fish, and a whole bunch of plants!
Favorite movie/band/musician/TV Show?  My favorite band is Cloud Cult, favorite TV shows include Friends, Parks and Rec, Doctor Who, and Will and Grace.