This week, our #FlagelFriday Employee Spotlight introduces you to Jenny Lee, CPA, Tax Supervisor at FHF.  Jenny has been with the firm for almost one year.  Read on to learn more about Jenny and her interests…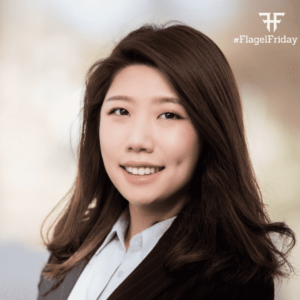 Education:  University of Maryland, Bachelor of Science in Accounting and Supply Chain Management.
Favorite part about working at Flagel Huber Flagel:  I love working with my dedicated, intelligent, and cheerful co-workers every day and really appreciate the atmosphere at FHF.   FHF truly values their people and supports great work life balance.
Area of expertise at Flagel. What do you help people to do? I provide tax services, including tax compliance, tax planning/projections, and tax consulting, to business and individual clients.
Favorite way to spend your time:  My husband and I love traveling and exploring new places around the world.  In the picture, you'll see us in London, Hawaii and Bali Indonesia, where we honeymooned.  We are also movie lovers, so we spend a lot of our time watching great movies.
What is your personal/family life like?   I have been married to my amazing husband, Sean, for 4 years, and we have a dog named Jelly.
Favorite movie/band/musician/TV Show?  Movies – Forrest Gump, Inception, Life Is Beautiful, Titanic.
Any fun facts about you that you'd like to share?  I was born in South Korea and went to College in Maryland.  I started my career in Virginia, and moved to Dayton, Ohio a couple years ago. I am loving Dayton so far!