Our Employee Spotlight introduces you to Jeff Woeste, CPA, Tax Partner at FHF.  Jeff has been with the firm for 20 years!  Read on to learn more about Jeff and his interests…
Jeff Woeste, CPA, Tax Partner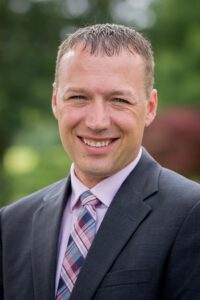 Education:  Wright State University – B.S. in Accounting & B.S. in Management Information Systems.
Favorite part about working at Flagel Huber Flagel: Every day is a different challenge and is very unique.   The closer the relationships become with clients and employees, the more exciting the advisor role becomes.
Area of expertise at Flagel. What do you help people to do? Small Business Taxation with an emphasis on family owned, service businesses, and medical practices.
Favorite way to spend your time:  Playing whiffle ball with the kids, golfing, traveling and working on household renovation projects.
What is your personal/family life like?  Laura, my wife, works at the Downtown Dayton Partnership and is passionate about Downtown Dayton.   We have three kids:  Michael, who loves all things sports related and is always looking for that competitive edge.   Andrew loves basketball and challenging his older brother in any sport.   Lydia loves all things sports related, driving a golf cart & shopping.
Fun Fact: I have had an "Almost Hole-In-One…twice!"   Two times, I have hit my first shot in the water on a par 3, re-teed a second ball on the tee box and aced it for a "Par 3."
 Favorite movie/band/musician/TV Show? Favorite Movie: Major League, Favorite Band:  The Beatles