This week, our Employee Spotlight introduces you to Derek Koester, CPA.  Derek has been with Nolan Giere (before merger) for 8 1/2 years, and six months with Flagel Huber Flagel.  Read on to learn more about Derek and his interests…
Derek S. Koester, CPA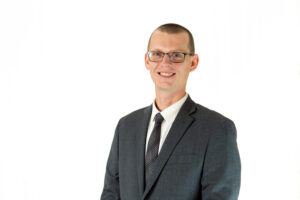 Manager

How long have you worked at the firm?  6 months with FHF and 8.5 years with NG before merger.

Educational Background:  Bachelors of Science from Wright State University, Masters of Accountancy from Wright State University.

Tell me about your area of expertise at Flagel. What do you help people to do?  I work primarily in the tax area and focus on working with our clients to maximize their tax situation. This is accomplished through thorough planning with our clients before making tax related decisions.

What do you enjoy most about working at Flagel Huber Flagel?  I enjoy the companionship as well as the network available to bounce ideas off of colleagues. Everyone that I work with inside of Flagel Huber Flagel has been always more than willing to help with any issues/questions that arise.

What is your personal/family life like?  My wife Bethany and I have been married six years and have two beautiful daughters, Claire Rose and Emma Lucille.

What are your interests, hobbies, and/or how do you like to spend your time?  My wife and kids enjoy camping as well as spending time with our family. We have five nieces and nephews that our kids always enjoy spending time with. We also enjoy going to Wright State Men's Basketball games where my wife and I have had season tickets for five years and her family has had them since the Nutter Center opened.

Any fun facts about you that you'd like to share?  I was one of seven kids growing up and out of those seven there were two sets of twins (I am not one of them).

Favorite movie/band/musician/TV show?  Growing up I always had three favorite movies, The Patriot, Gladiator and Braveheart.