This week, our #FlagelFriday Employee Spotlight introduces you to Connor Meiring, Staff Accountant at FHF.  Connor has been with the firm for a year and a half!  Read on to learn more about Connor and his interests…
Connor Meiring, Staff Accountant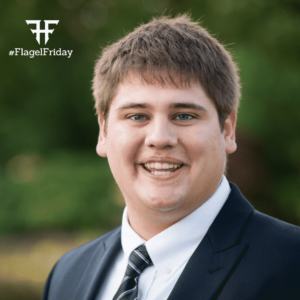 Education:  University of Dayton, Bachelor's in Accounting
Favorite part about working at Flagel Huber Flagel: The people I work with by far! They have been extremely helpful with any questions I have, and they make work a lot more enjoyable.
Area of expertise at Flagel. What do you help people to do? As a staff accountant I have a lot of different roles. I prepare tax returns, help on audits, and even do some monthly bookkeeping.
Favorite way to spend your time:  Sports, especially UD basketball, hunting, and fishing.
What is your personal/family life like?   I am from Fort Loramie, Ohio so I try to make it back home as much as I can to hang out with my friends and family.
Any fun facts about you that you'd like to share?  I once caught a seven-foot bull shark in the Gulf of Mexico.
Favorite movie/band/musician/TV Show?  Favorite Movie:  Major League; Favorite Band:  Motley Crue.