This week, our #FlagelFriday Employee Spotlight introduces you to Chuck Craft, Partner, CPA at FHF.  Chuck has been with the firm for 35 years!  Read on to learn more about Chuck and his interests…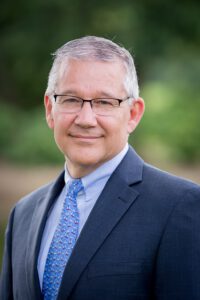 Education:  Bowling Green State University, BS in Accounting
Favorite part about working at Flagel Huber Flagel:  Working with businesses and individuals to meet their needs, while building and developing personal and professional relationships.  Over the past 35 years, many of these relationships have turned into friendships.
Area of expertise at Flagel. What do you help people to do?   I work closely with our nonprofit clients and I am qualified to perform audits in accordance with the Uniform Guidance.  In addition, I am involved in tax planning and compliance for individuals, and participate in the audits of closely held businesses.
Favorite way to spend your time:  I enjoy working out and running!  I follow OSU football and UD basketball.
What is your personal/family life like?  My wife Vannah and I have been married for 35 years.  We have two adult children, both married, (2018 and 2020) and we enjoy spending time with our expanded family.
Fun Fact: I participated in my second half marathon recently. I enjoy barefoot waterskiing on the flat waters of Norris Lake.
 Favorite movie/band/musician/TV Show? Movie:  Christmas Vacation, Band:  The Eagles TV: OSU Football