This week, our #FlagelFriday Employee Spotlight introduces you to Cathrine Conrad, Small Business Accountant / Staff Accountant at FHF.  Cathrine has been with the firm for almost four months!  Read on to learn more about Cathrine and her interests…
Cathrine Conrad, Small Business Accountant / Staff Accountant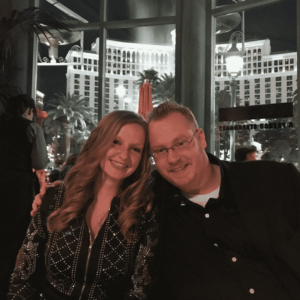 Education:  Western Governors University – B.S. in Accounting, ICB- AAS- Broadcast Communications
 Favorite part about working at Flagel Huber Flagel:  I enjoy working with the great people at Flagel on a variety of different projects! Working on different types of projects allows me to expand my skill set & gain knowledge of new areas of expertise.
Area of expertise at Flagel. What do you help people to do?  As a Small Business Accountant at Flagel, I help clients keep their books accurate and up to date so that they can use that information to make informed decisions that affect their business.
Favorite way to spend your time:  I enjoy staying active, spending time with family, cooking healthy meals & baking tasty treats!
What is your personal/family life like?  My husband & I have been happily married for 6 years! We have a dog & a cat, Mr. Whitey & Mr. Chance, they bring us lots of laughs & love! We enjoy home improvement projects & hosting meals & holiday functions for our families.
Fun Fact:  I was fortunate enough to participate in a 3-week excursion across Europe in high school & I got to spend my 17th birthday at the Louvre Museum in France!
 Favorite movie/band/musician/TV Show? TV show- Frasier, Band-Electric Light Orchestra.