This week, our #FlagelFriday Employee Spotlight introduces you to Alexas Turner, Staff Accountant at FHF.  Alexas has been with the firm for seven months.  Read on to learn more about Alexas and her interests…
Alexas H. Turner, Staff Accountant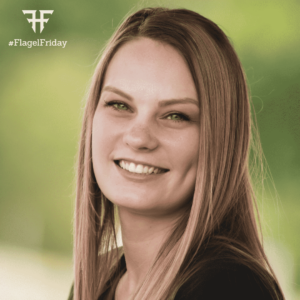 Education:  Wright State University, BS in Accounting
Favorite part about working at Flagel Huber Flagel: I enjoy working with all different types of clients. Every day I am working on something different, and it keeps things interesting. I especially like working with smaller businesses in our community.
Area of expertise at Flagel. What do you help people to do? I am still pretty new in my career, but so far, I have mostly been doing all kinds of tax returns, and just recently started testing the waters doing some assurance work.
Favorite way to spend your time:  I love anything outdoors – hiking with my family, sitting by a fire, and gardening. I am also an amateur cake baker, and love trying out new recipes.
What is your personal/family life like?   We have two children, Brooklyn and Stuart, so our little family is lots of fun, and super busy. Our kids also enjoy riding around with dad in his tow truck – as he owns a towing business. Every day feels like an adventure with my family!
Favorite movie/band/musician/TV Show?  I can't watch a movie without falling asleep, but some of my favorite artists right now are Twenty-One Pilots and Judah and the Lion.
Any fun facts about you that you'd like to share?  My quarantine hobby was turning my house into a jungle – I have so many house plants now, and I can't stop buying them!