This week, our Employee Spotlight introduces you to Amy Shaffer, Troy Office Manager.  Amy has been with Nolan Giere (before merger) for 2 1/2 years, and with Flagel Huber Flagel for eight months.  Read on to learn more about Amy and her interests….
Amy J. Shaffer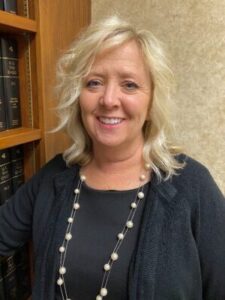 Troy Office Manager 

How long have you worked at the firm?  With Nolan Giere (before merger) for 2 1/2 years, and with FHF for eight months.

Educational Background:  Edison Community College, Business/Accounting

Tell me about your area of expertise at Flagel. What do you help people to do? I've been in the accounting field for over 25 years.  My specialty areas are payroll, individual tax returns, sales and use tax, bank reconciliation, and pre-financial statement preparation.

What do you enjoy most about working at Flagel Huber Flagel?  I've met some wonderful clients that I've become close to.  As a newer member of the FHF team, I love the support I get from the other staff members.  FHF is a fun, family-oriented company.

What is your personal/family life like? Married for 27 years to Tony.  We have one daughter Mackenzie and two sons, Alex & Jake.  We also have two dogs, Jax & Beau.  We're excepting our first granddaughter in November.
What are your interests, hobbies, and/or how do you like to spend your time?  I love to be outside….Reading, kayaking, walking, relaxing in the pool, and spending as much time as I can with my husband and children.

Any fun facts about you that you'd like to share?  I definitely like to have fun.  Love to explore the outside world.  I'm a frequent concert goer.  I work occasionally at a concert venue in Versailles, Ohio.  I run a non-profit organization for 5th & 6th graders in Covington, Ohio called P.L.U.S. (Positive + Leadership + Uplifting + Supportive).

Favorite movie/band/musician/TV show?  I like all music.  We always have music on in our home.  Favorites are classic rock and 90's alternative rock.  The Outsiders is my all time favorite movie.  Not much of a TV watcher.